CMW Wins Maryland State High School Championship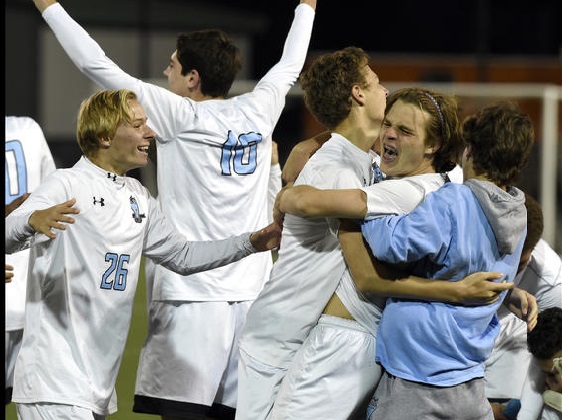 C. Milton Wright uses PK's to win first-ever boys soccer state championship
Congratulations to Bays coach Brian Tully and the CMW boys who capture their first Maryland State High School Championship.
Amongst the team of accomplished players from all around the team boasts several players from within the Baltimore bays System.
From the Bays 00 (Mizell) Ryan Belfiore and Jason Butler.
From the Bays 00 (Tully) Jake Spurlock, Jacob Crouse, Conner Appleyby, Sean Flemming, Josh Witte, Eddie Arison, and Matteo Colamonaco.
From the Bays 01 (Rose) Ethan Dolezal, Ryan Lindsey, Ryan Roszko, Paul Rose, Pierce Lloyd, and Zach Hetrick.
The game was filled with much excitement during regulation where Jason Butlar had a goal and the team had many chances. The overtime was back and forth and full of thrills.
In the PK shootout Butler. Belfiore, Flemming, Appleyby all converted before Spurlock finished off the game with the final goal before the celebration began.
"We've had confidence in this group all year," CMW coach Brian Tully said. "They've shown a lot of character. It's the first [championship] in school history, and we're thrilled to be a part of it."
Tully said winning the state title was his team's goal right from the start. The team made that clear at their initial meeting before the season as most of the players said that's what they wanted this fall.
This was the fourth time the Mustangs made the title game, and the team finally broke through the wall in this contest.
FULL Story HERE (Baltimore Sun)
Congrats Coach Tully, the Bays players, and all of the CMW Mustangs.